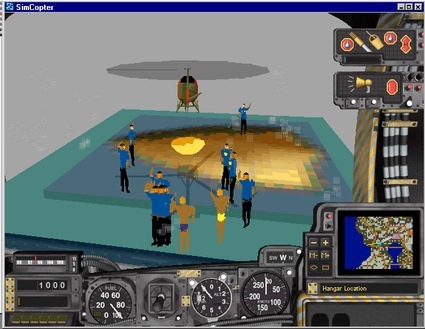 Dirty choppers.
How can a game which is a mannered simulation of light helicopter flight and aeronautics possibly be controversial? Do pensioners find themselves eviscerated by the blade? Is your 'copter armed with twin chain guns, for some unwarranted civilian massacre? Does Bruce Forsyth hang from the tail, and defecate onto members of the royal family. Alas, no. Although I would pay good money for a game involving the latter. The controversy was the work of a single, disgruntled, designer, and certainly marks perhaps the most novel working condition protest of all time.
The designer in question, Jacque Servin, was allegedly aggrieved with conditions at Maxis as they stood. There are numerous ways in which such matters can be addressed, such as meeting with the union shop steward, or perhaps a tabled discussion with the company directors. Servin, however, decided to vent his ire directly via the code of the Simcopter game, which was nearing release at the time, back in 1996. He inserted assumedly gay 'himbo' characters into the game, clad in Speedos, hugging and kissing each other, and, dauntingly, with fluorescent nipples. I'm all for a Pride celebration but, seriously, glowing nipples? That's borderline Cenobite material.
The Village People crowd was included more as an easter egg, appearing only at certain dates or times, and appearing in vast numbers. Doubtless quite a shock for the more conservative SimCopter player. An unintentional quirk of the design code saw the men (just men, no lesbians in Simcopter, alas; that was probably saved for the never-released Maxis sequel: SimClamLap.) swarm the player's 'copter, at which point they would be mangled by the rotor blades, and then need to be conveyed to the hospital, which became an exploit for easy lucre in the game.
Ironically, the greater controversy came with the sacking of Servin by Maxis for the introduction of unauthorised content into SimCopter. The resultant republish by Maxis cost the title a Christmas release slot. A number of gay organisations considered this an act of discrimination against Servin for portraying gay characters in a game, and numerous calls were made for boycotts of all Maxis titles. It was finally revealed that Servin was actually paid by a subversive group to include the frolicking himbos. Rumours of German scat midgets in copies of Spore remain, as yet, unconfirmed.